Why Did We Start This Podcast?
Most investors don't know that the ultra-wealthy (billionaires, institutions, and family offices) have large portions of their investment portfolios allocated to investments outside the stock market and in alternatives like real estate, private equity, and hedge funds. Meanwhile, the average high net worth investor is mostly invested in stocks and bonds.
One prime example of how institutions have leveraged alternative investments is the Yale Endowment. Yale's endowment office diverted money away from just stocks and bonds into alternative assets like real estate, timber, and hedge funds. From 1985 to 2020, the endowment grew from $1.3 billion to $31.2 billion, accounting for a third of Yale's entire operating budget. The chart below outlines their allocation targets, with just 7.5% going to bonds and cash.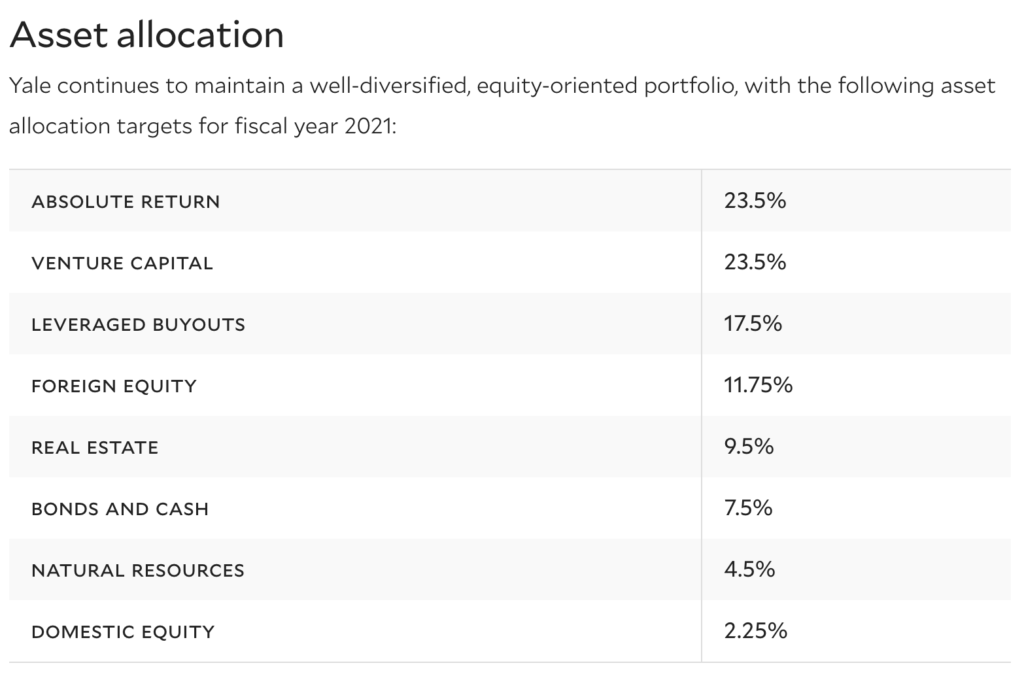 Another example is from TIGER 21, an exclusive investor group for ultra-high net worth investors. According to a recent poll of their investor database (which accounts for around $85Bn of collective wealth), these investors have allocated a large portion of their wealth to real estate and private equity (their two highest allocation percentages).
So here's the bottom line…
Alternative investments were historically a difficult asset class to break into for retail investors. However, in recent years, alternative investments have opened up to more investors. We see this as a huge opportunity for all HNWIs to take advantage of the diversification, stability, and high returns that alternatives can offer.
What Alternatives Are Out There?
We put together what we call the Alternative Investment Continuum, which shows the broad categories most alternatives fall under. We will not only have educational podcast episodes helping to break down what these categories and subcategories mean, but will invite expert guests on related topics to share their unique insights and experiences.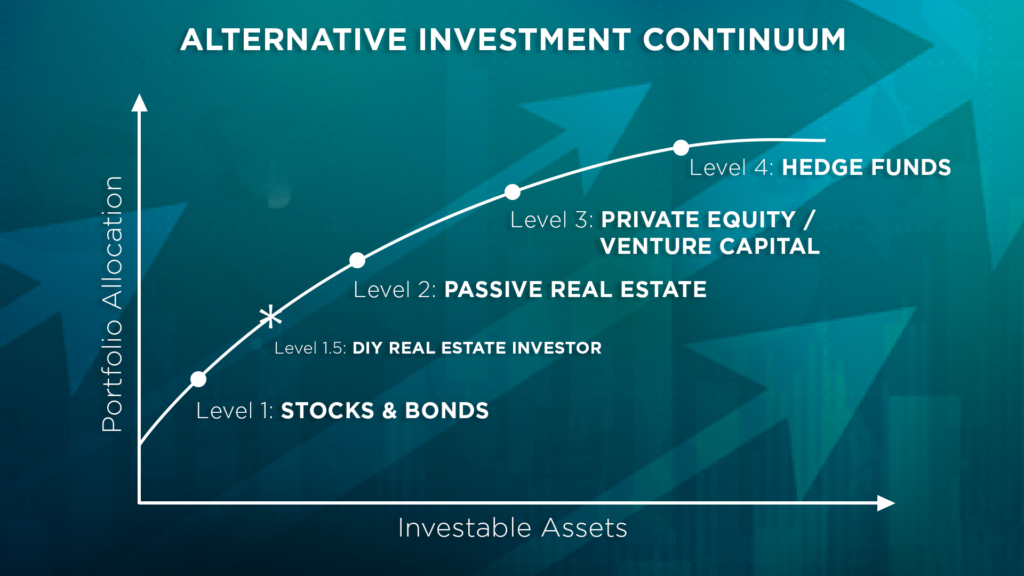 What Do We Hope to Accomplish With This Podcast?
Now that alternatives are available to all HNWIs, the real challenge comes with effectively evaluating opportunities. How do you find good alternative options? How to do evaluate sponsors and do due diligence? How do you mitigate risk and avoid fraud?
These are all questions investors struggle with, and one of the main obstacles to taking advantage of investing in alts. That's what we're here for. Through deep dive conversations and interviews with everyone from sponsors, financial experts, and successful passive investors, we want to help you become a better investor.
Ready to dive in? Watch Episode 1 – How The Wealthy Invest & The Alternative Investment Continuum now!